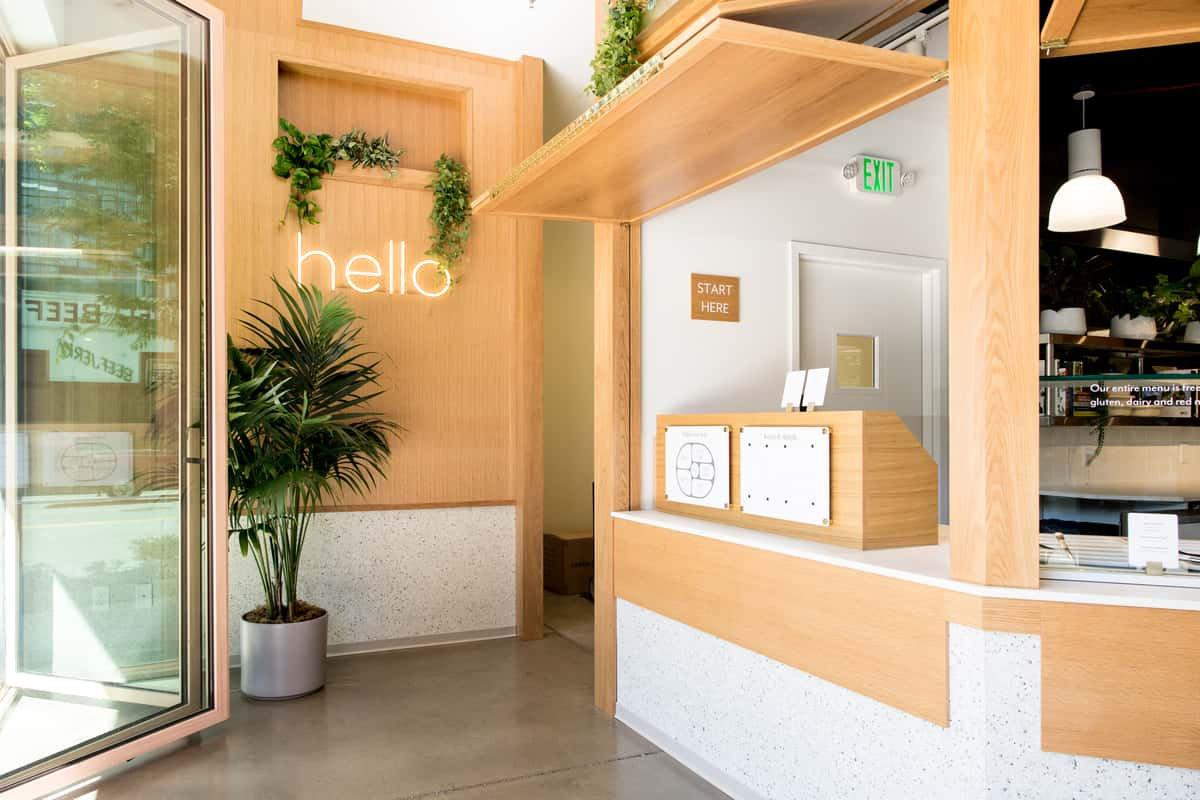 Designing One of Seattle's Most Beautiful Restaurant Spaces
Designing One of Seattle's Most Beautiful Restaurant Spaces
Think back to the last interior space you visited aside from your home; maybe it was your office, the bank, or even an art gallery. How did it make you feel? Were you excited? Tired? Happy to be there?
It's easy to forget how the spaces we visit every day have the power to shape our mood and experience. That's why when envisioning BLOOM, we paid such careful attention to how our guests would interact with our physical restaurant – so that not only are you treating yourself to a deliciously healthy meal, but an overall experience that feels inviting, uplifting and refreshing.
Our Design Inspiration: A Healthy Newsstand
In a very visceral way, our restaurant interiors are a visual manifestation of our food philosophy. We believe in the power of habit and consistent effort, in building wellness and seeking inspiration from the everyday. To us, eating and feeling healthy starts with treating good food as a daily necessity – and our purpose is to make that as easy and delightful as possible for our guests.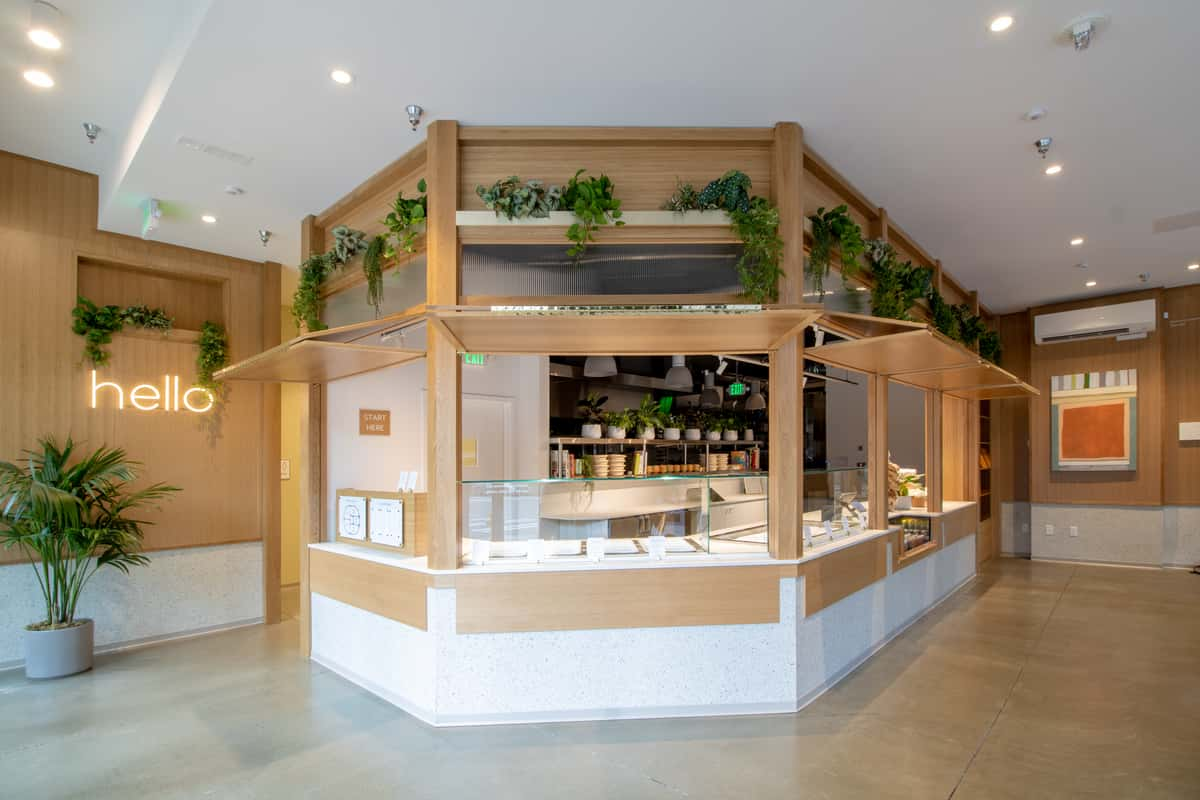 That's why we loved the idea of a healthy newsstand. As NYC's former Newsdealers' Association president William Merican said, "there are some [people] who cannot eat their breakfast without a newspaper," and "if the public cannot get their newspapers on the street, they will find the inconvenience intolerable." If people can spare time in their busy days for the daily news, why can't we do the same for our daily nutrients? We imagined BLOOM to be a place for people from all walks of life to frequent daily – to pick up their BLOOM essentials, share stories of their colorful everyday lives, and head out better equipped for the road ahead.
Determined to bring this vision to life, our design team found inspiration in charming market stalls and Parisian newsstands (among others). Much of this initial concept made its way into the final design of our space. Our service windows feature fully operable panels that open and close at the day's end; the flow of our service layout reflects the convenience and speed of picking up articles to-go; and our neon "hello" sign mimics the innate human need for social connection, no matter how brief – not to mention doubles as a stunning photo op spot.
Fast-fine Dining: Elegant Interiors, Contemporary Needs
With the idea of a healthy newsstand in mind, we set off to carve out our own interpretation of "fast-fine dining". We wanted to distill the key elements of the fine-dining experience into a convenient, inclusive and accessible package for daily consumption – and we dare say we've accomplished just that.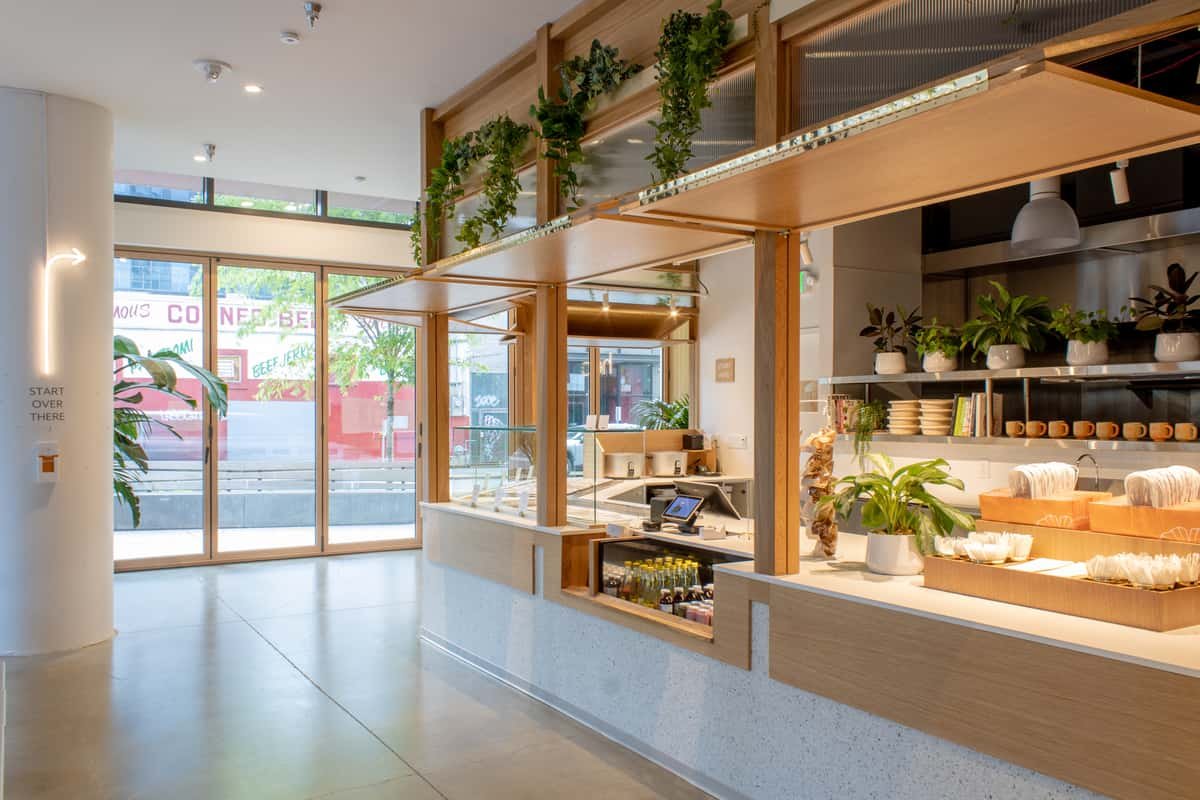 The quality of our ingredients and dedication to the culinary craft speak for themselves. At the same time, the restaurant's interior design reflects the elevated ambiance and aesthetic sense of a higher-end establishment, without feeling stuffy or unapproachable.
BLOOM's restaurant space is contemporary and minimalist, with hints of inspiration from Asian Zen design principles. Our interiors feature a largely neutral palette, with clean lines and understated furnishings that lend a sense of timeless beauty to the restaurant. The harmonious coexistence of raw elements and refined finishes (from polished concrete floors to terrazzo-like tile, to fluted glass accents) gives BLOOM a unique personality that echoes the "fast-fine" ethos. Moreover, our floor-to-ceiling accordion windows on Minor Street invite fresh air and natural sunlight to permeate the space, while white oak walls and overflowing plants bring warmth and a splash of color.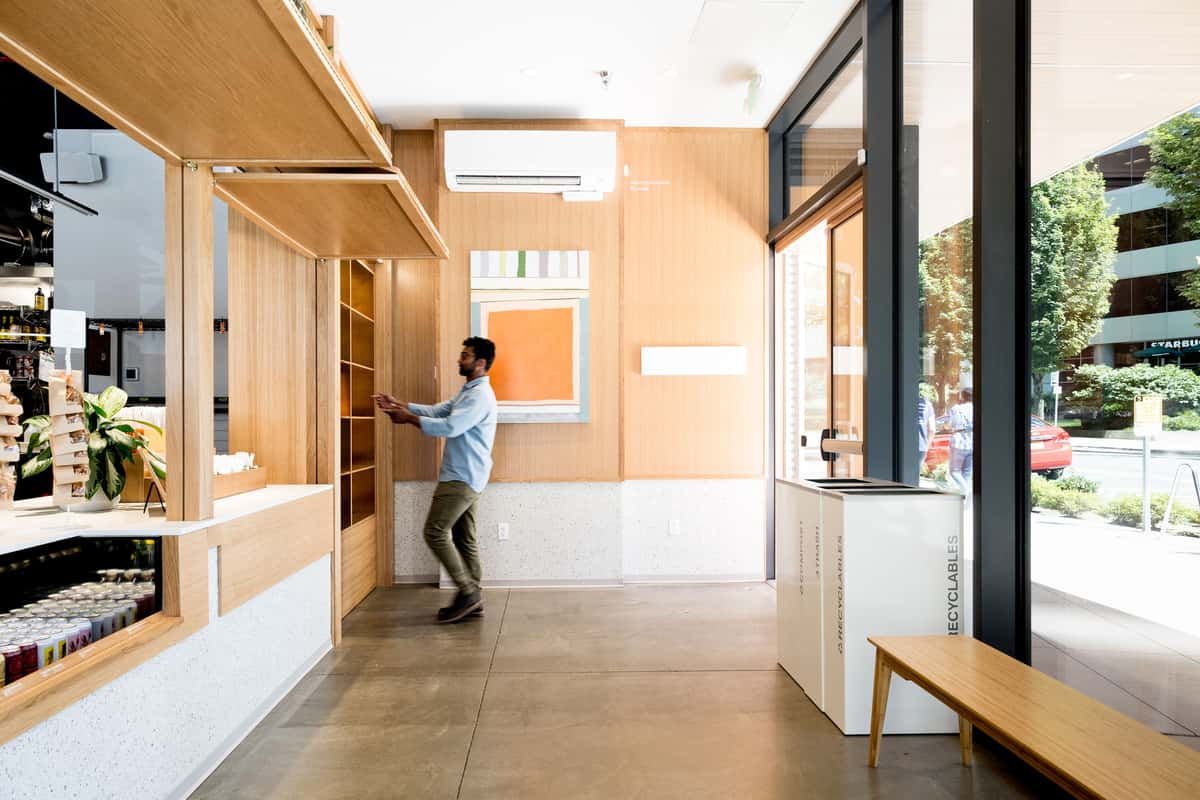 Even as the space is nothing short of a visual feast on the perfect sunny afternoon, thoughtful consideration for functionality is evident from the biggest to most detailed interior design decision. Various touchpoints, including carefully placed neon signs and BLOOM box diagrams, act as intuitive visual cues to direct the guest journey up until the point of ordering. As guests move horizontally across the counter space, they're guided by staff to build their BLOOM boxes in sequential order of menu components, ending their journey at a custom-designed condiment station with all the essentials: compostable utensils, napkins, and signature orange BLOOM bags.
Not only does this layout support efficiency and speed of service, but it also maximizes our space while empowering guests to be self-directed in their health journey. Finally, the pick-up/delivery wall features a sliding interior door that allows staff to easily place bags for pick-up; and this is located right next to the restaurant doors for ease of access for those picking up as well.
At the end of the day, we can only hope that our intentions and design considerations made a difference – that whoever walks into BLOOM finds a place of solace, and leaves feeling invigorated by not only a nutrient-dense, delicious meal, but an incredible overall design experience as well.